Monthly Archive for "December 2008"
General Jessica | 28 Dec 2008
After months of trying and without weaning Jude, I have finally managed to get pregnant, with Andy's assistance, of course. I think that the baby is probably due the very first days in September, meaning that if all goes well, the baby will arrive at the end of August. While I was taking the test and before I had gotten the result, I asked Jude if there was a baby in Mommy's tummy. He lifted up my shirt to expose my belly and shook his head and said, "No."
General Andy | 21 Dec 2008
Jessica and I got back a few days ago from a great time in the warm weather. We took a week-long cruise to the Caribbean. Stops included: Samana (in the Dominican Republic), Tortola, St. Thomas, and Great Stirrup Cay – Norwegian Cruise Line's private island in the Bahamas.
The week was a great time for the three of us to spend together. It was our third cruise, but the first we've taken alone. It was also the most time we've spent with Jude since we both went back to work, Jessica when he was 3½ months old, and me when he was 6 months old. He had a good time too!
We left Saturday the 13th, getting up early in the morning to make our 7:30am flight to Miami. Once we got there, we headed straight to the ship, after a bit of a wait for our bus to show up (we paid NCL for a ride to the pier). Once there, check in was pretty quick and painless. We got our stuff dropped off and headed straight for some food – I hadn't eaten much all day and it was about 3:00pm.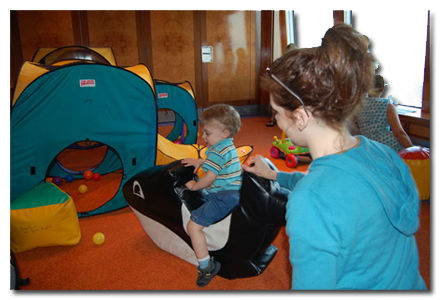 Sunday was a day at sea, chuggin' our way toward the Dominican Republic. We sailed right down the north coast of Cuba, and could often times see it off the right side of the ship. This was a day to explore the ship and take advantage of what they had to offer. There was a kids center that we had hoped to take advantage of for Jude, but they required that kids be at least 2 and potty trained. Since Jude was neither, we didn't get to use it. Interestingly, they didn't allow parents in there, so we probably wouldn't have used it anyway since Jessica cherishes her time with Jude and wouldn't part with him anyway. They did have a sort-of program for those under two. They called it "under two zoo." It was basically a bunch of toys set aside in a conference room and a door left open for those interested. Jessica liked it, I preferred finding a good place on the ship to let Jude run free, the promenade and the pool deck were good places. They also had a kids pool area complete with water slides. Signs stated that only potty-trained children were allowed, but they seemed to turn a blind-eye to smaller kids so we took advantage. Jude loved it, and even enjoyed doing the water slides himself – with no assistance from us.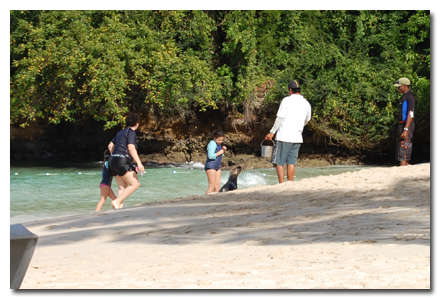 In Samana, we didn't know what to do on our own, so we broke with our standard procedures and booked an excursion with the ship. We went on a boat tour of mangrove forests and some interesting caves (which you get out of the boat to see), followed by some time at the beach on a private island owned by a hotel. Jessica really hoped to catch a glimps of some sea lions, as they had a program (we didn't want to pay for) with sea lions. Funny enough, while she was off looking for a restroom, a couple people walked up the beach with a sea lion following along. She missed it and they never returned. Another funny thing was that as the boat was heading toward the island after the tour, we hit rain. We stopped long enough for them to pass out rain coats, and then carried on. Shortly after the rain coats were all on, and we resumed the trip, the rain stopped.
The next stop was Tortola, in the British Virgin Islands. Months in advance, we had booked an appointment with Dolphin Discover, an outfit that lets you swim with dolphins. We opted to walk there from the ship, as I had estimated the distance to be about a mile and a half.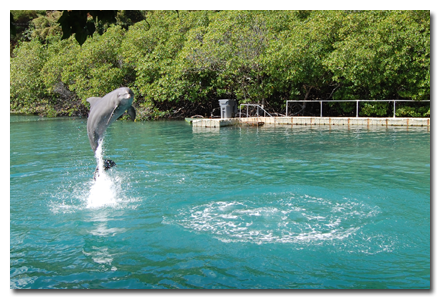 The walk itself was reasonable, but the sidewalk ended and the road narrowed, making the last leg a bit scary. Once we got there, we had to wait around for our time to start, as we were about 80 minutes early. That was alright though, as the dolphins were fun to watch, and there were a few people from the ship we got to meet and chat with. Once our time came, things got rough though. They had us waiting a while for the program to start. Jessica was not happy, and her snottiness started to show. She said to me, intentionally loud enough for them to hear, that she was ready to ask for a refund and leave. Once it started, all was well though. We had booked the cheapest program available, since Jude was with and wasn't allowed to do the things available in more expensive packages. What we paid for was to kiss the dolphin, pet it, dance with it a little, and have an interesting show. The next package up involved a swim, where the dolphin pulls you along. We found out once we got going that people with different packages were mixed together, and we could have easily done the swim. Each of us would hold Jude while the other swam. I said to Jessica, "We should have done that." The lady that was directing us when out of the water (and filming the program) must have heard me say it because she whispered something to the trainer, who turned and asked if I'd like to do the swim. I jumped at it! In the end, it was a lot of fun. We didn't brave the narrow roads back though. Another couple in our group was also on the cruise with us so we split a cab back to the ship. Once we were back, we had a quick lunch, gave Jude some time for a short nap, and headed out to look at souvenirs at the little flea market set up near the ship. Jude had fun there because there are a lot of wild chickens on Tortola, and he thought that chasing them was the thing to do!
On Wednesday we had a day in St. Thomas, U.S. Virgin Islands. This was an interesting place, as it was definitely American, but also clearly Caribbean. It is the only place in the U.S. where they drive on the left too! We started the day heading to the St. Thomas Sky Ride, a cable-car that goes up the mountain to a wonderful view.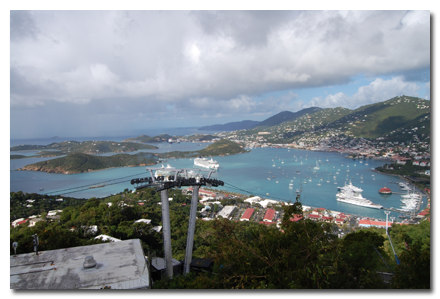 Then we headed to "Blackbeard's Castle", an old Dutch fortress (more of a tower) breifly under the control of the pirate. We took a cab there, and walked through the whole area, which had more to see than we cared to take time to check out, including many colonial era homes and buildings. Part of the attraction is the "99 steps" also, which lead down from the fortress. Once at the bottom of the hill, we were in downtown Charlotte Amalie, capital of the U.S. Virgin Islands. We didn't stick around long, but walked about a mile back to the ship for lunch and another nap for Jude, before heading to Magen's Bay. Magen's is touted as one of National Geographic's top 10 beaches in the world. I liked it. It was beautiful, though crowded, and the waters were nice. After just a couple hours we opted to head back to the ship though, and it was a good thing we did. We left plenty of time to get back, or so we thought. We were supposed to be back by 4:30 and it was a little after 3:00. Traffic was bad though, and we ended up jumping out of the cab (more of a tour bus), paying the driver, and walking the last half mile. We got aboard the ship right at 4:30. Then we decided to head straight for the promenade so we could watch the stragglers and see how late they allowed people to be. It wasn't until about 5:05 when the last gang-plank was lifted and the doors closed.
Friday we went to Norwegian's private island in the Bahamas, Great Stirrup Cay. Royal Caribbean has the island next to it, which we had visited in February on our last cruise. NCL's island paled in comparison. While bigger, there was far less beach, no ribs at the BBQ (I had been anticipating ribs all week), and less to do. We headed back to the ship early and hit the kiddie pool area (there is a hot tub there too.)
We happened to pick a great week to go. The weather was great on the cruise, and miserable back home. The down side was that after building sand castles on Friday in the Bahamas, I was blowing snow off the driveway on Sunday morning. That was harsh!
It was a great time! If you're interested, there are more pictures here.